WBAI Press Conference
City Hall, New York City
Thursday, July 13, 2017
More Info at WBAI
Urgent!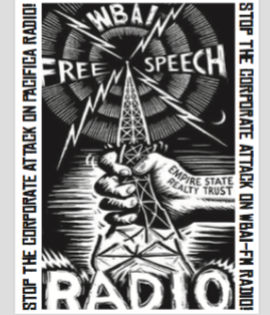 WBAI and Pacifica Network Under Legal Attack from Empire State Realty Trust
Radio Station WBAI-FM (99.5) and the Pacifica Network which holds it's license are grappling with a lawsuit from the Empire State Realty Trust (ESRT). ESRT is demanding over $2 million for unpaid tower lease costs, holding the network hostage in an annually escalating contract.
The Pacifica Foundation is a non-profit media network providing independent free speech news, public affairs and culture through its 5 stations, (including WBAI in NY), an historic audio archive and over 220 affiliated stations. Empire State Realty Trust is a multinational corporation that held $554.4 million cash and cash equivalents as of Dec. 2016, and owns billions of dollars of real estate. ESRT's contractual maneuvers to maximize profits without consideration for community interests have severely impacted the Pacifica Network and threatens its future operations.
After the destruction of the Twin Towers in 2001, broadcasting stations in the NYC area had few options for antenna space rental. ESBT took advantage of its monopoly position. In 2005, their owners negotiated a highly questionable contract with Pacifica which increases about 9% per year. ESBT has refused to renegotiate the annual increases and release Pacifica from the contract, which is scheduled to continue until 2020. Market rates for FM transmitter tower leases in NYC have dropped to about $12K monthly for new transmitter site options. WBAI's bill for the month of May 2017 came to over $53,000. Pacifica has been on the Empire State Bldg. since 1965 and have always been willing to pay what's fair and reasonable, but these exorbitant annual increases are horrific.
The ESRT threat to Pacifica may involve more than financial opportunism. In these urgent times there are many interests who stand to benefit from the loss of Pacifica's powerful free speech advocacy. Pacifica's mission is to represent the interests of the public and Pacifica stations across the country are working together to provide independent investigative reporting and commentary on the rapidly developing political, economic, social justice and environmental threats of 2017.
We thank the many NY elected officials who have sent letters to the ESRT on our behalf. We also thank those at Wikileaks for their social media support.
You can help!
Please CALL and WRITE your elected officials, and ask that they also encourage ESRT to negotiate a fair settlement and release WBAI and Pacifica from an unreasonable contract. More details, updates, and information on how to contact your elected officials is at wbai.org.
Please donate to the Pacifica Foundation on this website.
For updates go to WBAI.org