Ray Hill Crosses the River Styx
Famed Activist and Radio Icon Died Saturday Night, November 24, 2018
Memorial Event Sunday, December 2, 2018 at 2:00 PM
Houston City Hall
Yes, Ray Hill died Saturday. He was a true visionary and leader, and so very committed to helping other people and tochanging society in some much-needed ways.

For those of you from stations other than KPFT, who don't know who Ray Hill is, he was one of the founders of KPFT, and even served as GM for a short while many years ago. But there's much more.

In addition to all of the wonderful things Ray did for LGBT rights and other civil rights mentioned in the Out Smart article, he also started The Prison Show on KPFT, which still airs every Friday evening. His support for prisoners and their families, and his genuine showing of love to people who many others don't want to even think about, set a wonderful example for others to follow.

More recently, he started Execution Watch which airs on KPFT at 6:00 PM whenever an execution takes place in Texas. Lawyers and experts on the death penalty review the case and provide insights into how the criminal justice system actually works.

KPFT aired a tribute to Ray on Oct. 2. Several programmers mentioned him and his death on the air today, and a number have been talking about him and the many wonderful things he has done, for several weeks on KPFT.

There have been several stories about him in the Houston Chronicle in the last week:

If you read the above, you can see that Ray was even involved with planning his own memorial service, and was glad to give interviews about his life and his impending death, being positive even until the end.

There has been a lot of talk on KPFT about Ray Hill being in hospice (since August, I believe) and even Ray himself thought he would die back in August. But he hung on, doing interviews and even calling into KPFT's Execution Watch program (which airs every time the state of Texas executes a prisoner) at least once while he was in hospice.

Ray was one of the very special people of the KPFT and Pacifica family, and will be missed by many. But the love and commitment he showed, for those who many people would rather shove aside, will endure.
Obituary in Out Smart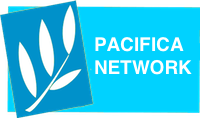 New Bylaws Amendments
December 10, 2018
Click Here
Reports on PNB and Committee Exec Sessions

Click Here